We are bringing back the BOO Baskets for 2021!
Let's Get BOO'd New River Valley
Last year we drove around the New River Valley and delivered 150 BOO Baskets to families. Each basket had an array of treats and trinkets for kids to enjoy especially since Halloween was taking on a new look for 2020. We received such a positive response to our BOO Baskets, we just couldn't hold out and not do it again this year. This article will serve as an information center to find out what the BOO Baskets are, How to sign up and how to help sponsor this awesomely, fun Halloween community give-back.

A BOO Baskets is a basket filled with Halloween treats, toys and goodies that we will deliver to 150 Families in the New River Valley. We LOVE Halloween and we want to include EVERYONE so we have a TEAL PUMPKIN BASKET option available to our families with food allergies. The BOO baskets will be 100% FREE. That's right, we will be delivering the Baskets to your house and you won't pay for anything. How is this possible? This is possible because of the amazing local Business Sponsors who help fund this project.
After you receive your BOO Basket, you will have THREE (3) Days to BOO TWO (2) more families of your choosing with a basket filled with Halloween goodies and treats. Make sure when you are BOO'ing you are quiet! It's supposed to be a mystery who is BOO'ing you!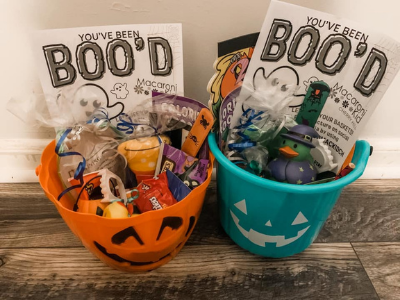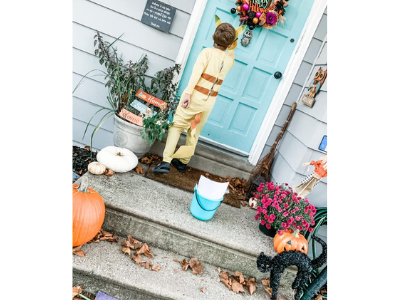 Signing up to receive a BOO Basket is super easy! Click HERE to Sign Up!


Like most fun things in life, there are some rules for our BOO Baskets. Please make sure you read these so you understand when it comes time to sign up for a BOO Basket.
1. You MUST be a NRV Macaroni Kid subscriber – you can sign up for FREE here → SIGN UP HERE
2. Deliveries will happen between October 18 - October 22, 2021.
3. You must enter your ENTIRE address – ie: 1234 Simple Street, Floyd, VA. We can't deliver BOO baskets if we don't have an address.
4. You MUST live within the New River Valley - if your house is too far, you will not be eligible for delivery - you will be given the option to come pick your Basket up.
5. We cannot BOO high rise apartment buildings. We need to be able to access your door from the street. You may still sign up but you will need to pick up your basket.
6. You Must have the intention to BOO Two (2) More Families – that's the whole fun of this!
7. There will be 1 Basket per House – not per child.
8. There are only 150 Spots available – once those 150 spots are taken, we will be unable to take additional entries. You may be added to a wait list but this does not guarantee a BOO basket.
9. We will send an email the week of deliveries letting you know we are coming around BOO'ing. PLEASE INFORM SPOUSES!
10. We will try to BOO between 3:30PM-8:30PM. We will not BOO past 9:00PM.
11. If it is raining, we will not BOO that evening. I don't want to leave your baskets outside in the rain because the contents inside will be destroyed :(
12. PLEASE BE PATIENT!! We have 150 houses to deliver baskets to. We give ourselves a full week (7 days) to deliver the baskets. We have a map and organize our deliveries by area. So Please be patient with us 😄
13. New River Valley Macaroni Kid takes no responsibility for stolen baskets or baskets that may have had critters in them.
14.Please be sure your house number is visible from the street. We don't want to deliver to the wrong house but we are human and mistakes can happen.
15. HAVE FUN and HAVE A HAPPY HALLOWEEN!! 🎃🎃🎃
If you are interested in becoming a Business Sponsor to help fund our project, please click the button below.